Hey friends, am Abhi, and as you all know am running a blog called abhi content writer where I write, share my thoughts on various topics ranging from content writing Kolkata to affiliate marketing, even I do write a lot of informative blogs about health, travel, movie reviews, product reviews and many other niches.
But, today I would like to talk about health in my blog abhi content writer, where I will focus on a few effective exercises that you can do for your shoulders. Considering the shoulders as the key factor in the performance of the upper body, top exercises for your shoulders must be practiced on a regular basis. Strong shoulders are essential for utmost performance and a well-formed and robust physique. A few effective exercises for your shoulders are mentioned below that will guide you in shoulder development.
Standing Dumbbell Shoulder Press
Standing Dumbbell Shoulder Press
A standing dumbbell shoulder press caters to the need of having a shoulder growth in a better manner than the seated press. This exercise requires more stability and hence allows you to strengthen your core and also adds the balance to your physique. The standing dumbbell press is considered the best exercise when it is performed with a full range of motion. For more information on such exercise, you can visit Abhi content writer on a regular basis.
Prone Reverse Flye
A prone reverse flye with neutral hand position is proven to be the best exercise when compared to the pronated grip. You will need to face down on the flat bench with the balls of the feet positioned with firmness in the ground for support. Now you will require grabbing the dumbbells with your arms angled out and a slight bend in your elbows. Now retract your shoulder blades as you bring the weight up, squeeze and then lower the weight under control.
Bent over Reverse Fly 21s
Bent over Reverse Fly 21s
This exercise is known for targeting rear delts while hitting the medial and the front heads. You will require starting in a bent over position with the sore, tight knees slightly bent. Now perform the first seven to ten reps with a neutral gap in between. Perform the next seven reps with a prone grip, and for the last seven, turn the palms back to a neutral grip and perform a forward raise.
Lateral Raises with Kettle Bells
Lateral Raises with Kettle Bells
This exercise challenges your forearm and shoulders to perform a standard dumbbell lateral raise. It is very crucial that you focus on squeezing the deltoids instead of allowing momentum to take over the movement.

To do this exercise, you will require grabbing a pair of kettle balls and then holding them at your sides. With the elbows slightly bent and locked wrists, try to lift each kettle ball up and out to the side until your arms are parallel to the ground. You can pause for a second and continue lower back to starting position slowly.
Neutral Grip Sternum Chin Up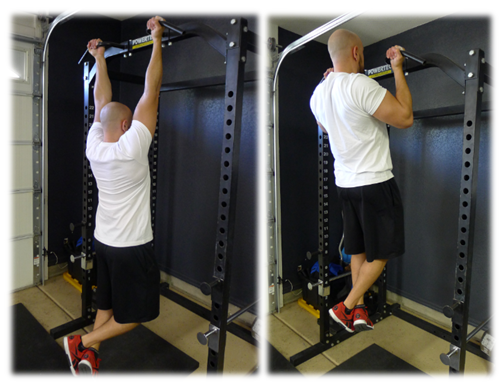 Neutral Grip Sternum Chin Up
You must give this exercise a shot to build a stronger lats and delts and this is definitely harder than a conventional chin up. You will require starting with a neutral grip on the chin up bars. Try to pull your shoulder blades together and drive yourself up until your chest is reached by the bar. Keep you chests and shoulders open as you pull yourself up. Focusing on the rear delt squeeze at the peak contraction keeps you safe. Now when you are at the top of the move, you will need to have your body placed at 45 degree angle from the ground. Bracing your entire body as you slowly lower yourself back to the position with your torso upright will help you to do it perfectly.